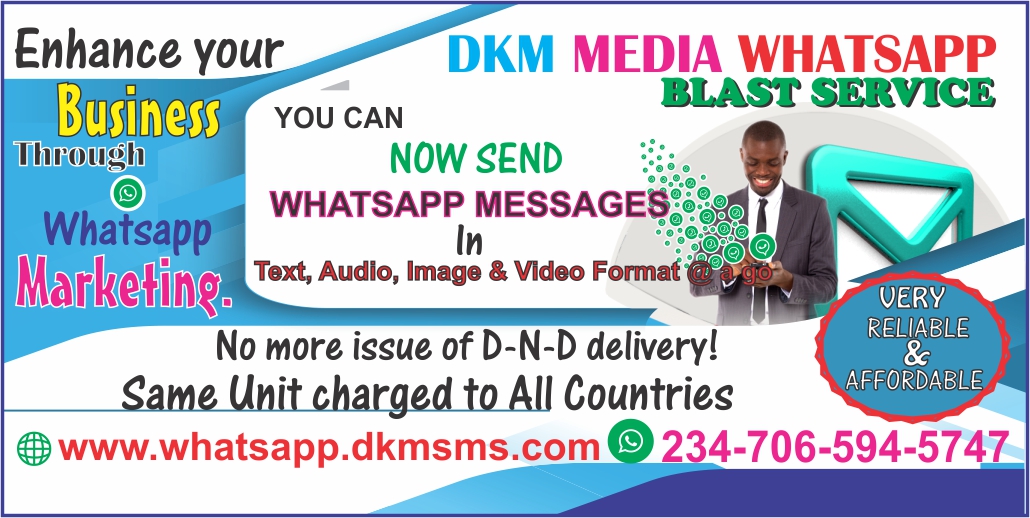 Dkm Media Ventures has introduced WhatsApp Blasting Service

With our newly launched Bulk WhatsApp Marketing Services, you can now send Bulk WhatsApp Messages at a go to your targeted customers without having issues of not getting across to them.
With our Bulk Whatsapp Messages, you can send your messages in a Text form, Audio, Images, Pdf, Videos etc. at a low rate and it is 100% delivery and no issue of D-N-D (Do-Not-Disturb).
With our WhatsApp Marketing Service/WhatsApp Marketing Software be rest assure that you can reliably reach out to your customers, church members, friends, family, co-workers, customers, suppliers, course mates, students, parents, distributors and your team.

Dkm Media Whatsapp Blast, makes it easy for you to connect, interact and transact with your customers on their mobile phones, no matter where they're located. We're more than your run-of-the-mill bulk SMS service provider. We know that you want to grow your business, and to do so, you need to reach and engage with your customers. We can help you do that.
The good news is this, with our Bulk WhatsApp Blast, you can now filter your database to ensure they are WhatsApp enabled Phone numbers and it will help you in saving cost of sending messages to numbers without knowing if the numbers are WhatsApp Enabled or NOT.
Also, with our WhatsApp Filtering/WhatsApp Scrubbing Service, this enables you to filter live whatsapp numbers from inactive numbers, meaning it will just filtered the live numbers alone.

Guidelines of how to use DKM Media Whatsapp Bulk Messaging Platform

(1) Login into your account via: whatsapp.dkmsms.com with your username & password given,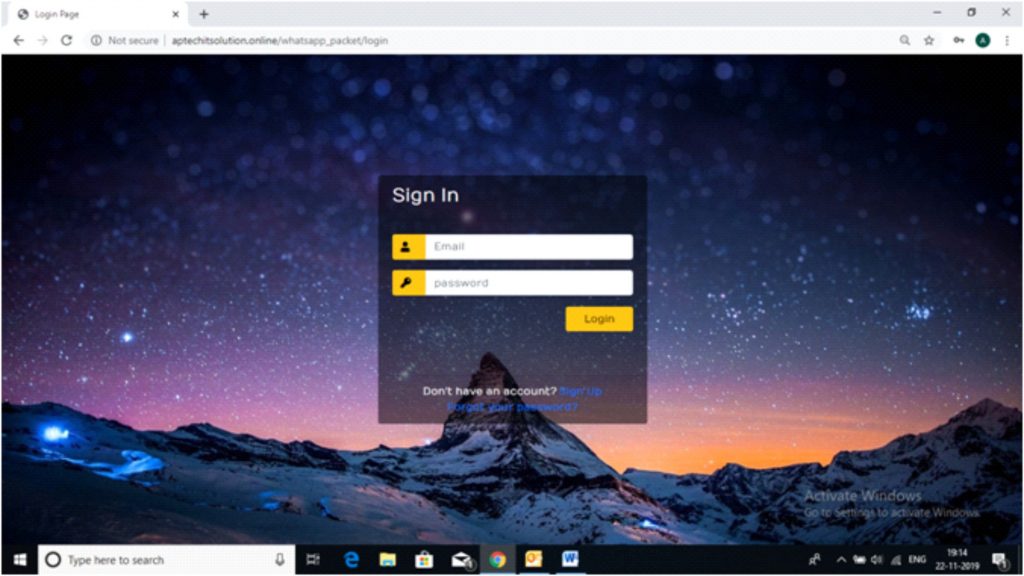 (2) After successfully logged in, on your left hand side, you can see the dashboard.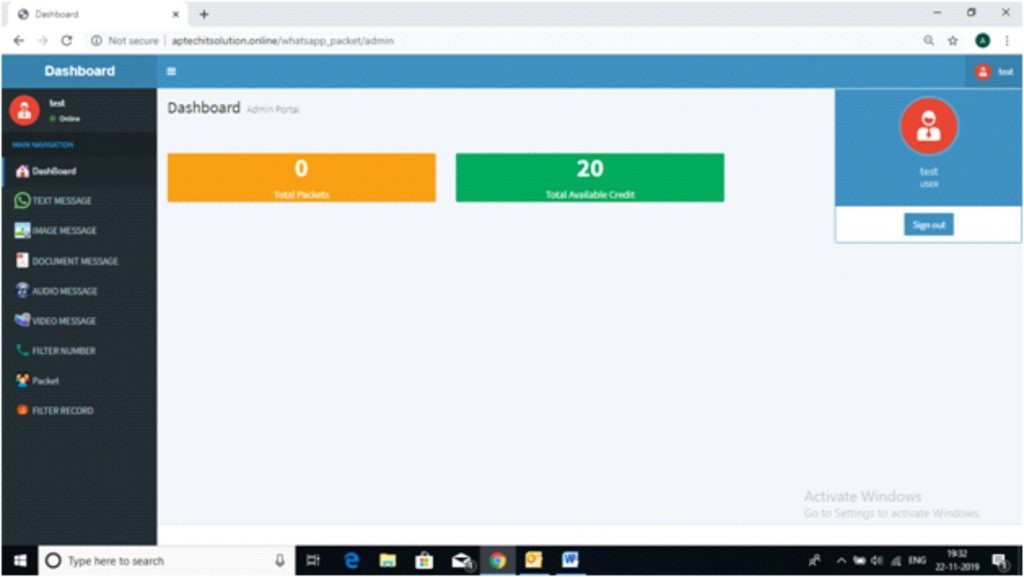 (3) Now you see multiple options at the left hand side. Now, we shall  explain each tab and its functions

(4) Dashboard: When clicked on dashboard, it will show you your total packets used for the day, (Packets means the batches of your sent messages), also your total filter records, your available filter credits and your total available credits.


(5)Text Message: When clicked, this is where you send your messages, you will two boxes there, the first one is the Mobile Number box, while the second is the Text Message box.
Please note: You must add the phone Numbers with country codes. E.g. 2347065945747 and 91992356xxxxx, depending on the country you are sending to, and you can type differently with country codes. Also, ensure you put a comma at the end of each phone number or you type in a new space by pressing the enter button.
After this, you type your message in the Message box, then click on submit to upload your whatsApp text packet on our server.
(6) Image Message: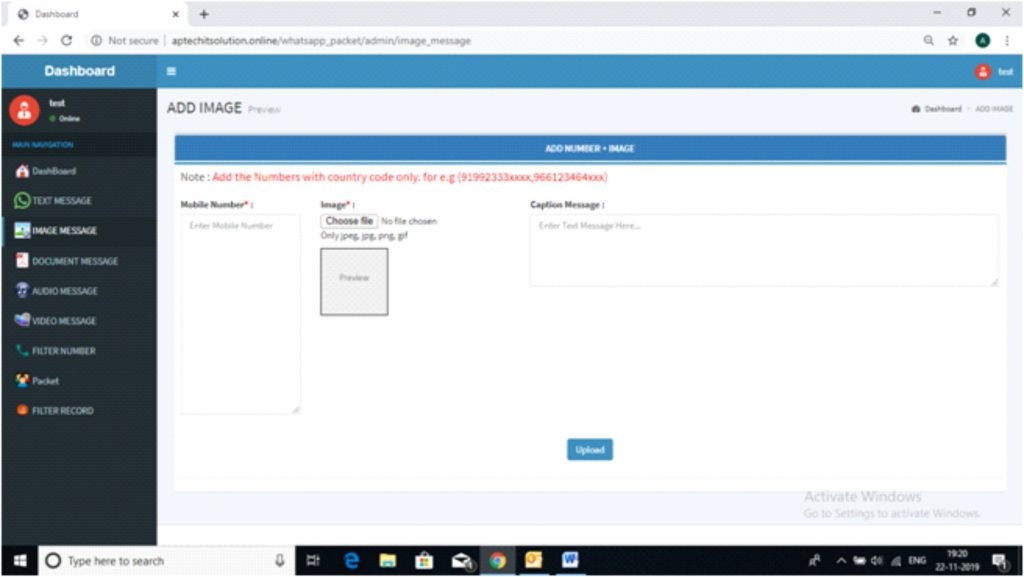 When clicked on image message, you will see mobile number where you type in your phone numbers, then you click on Browse to select your image you want to add and ensure it is not more than 5mb, then, the Caption Message box to enter your text message. 

(7) Document Message: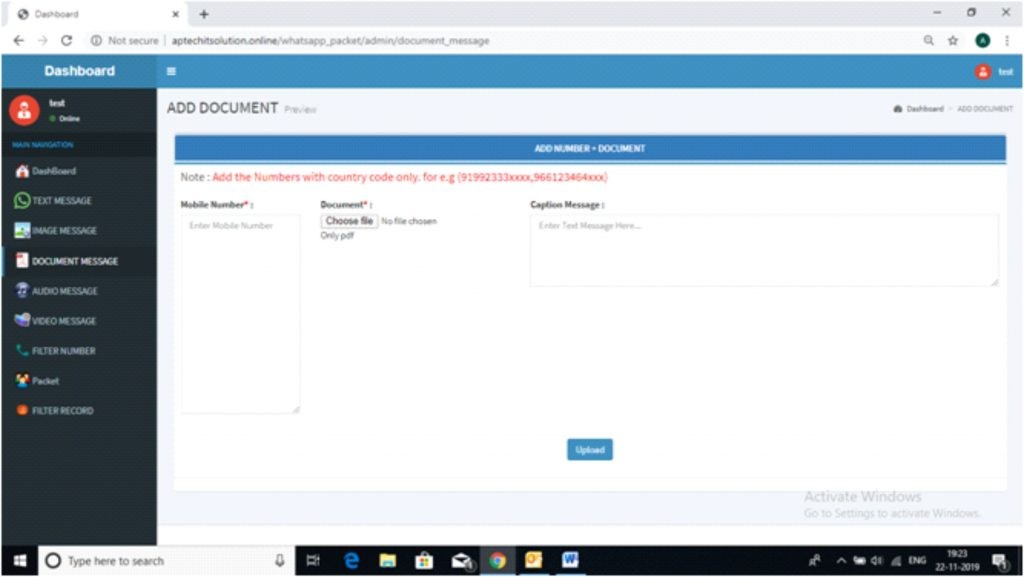 When clicked on this, you insert pdf/document file you want to add, then phone number and caption to add and upload.

(8) Audio Message: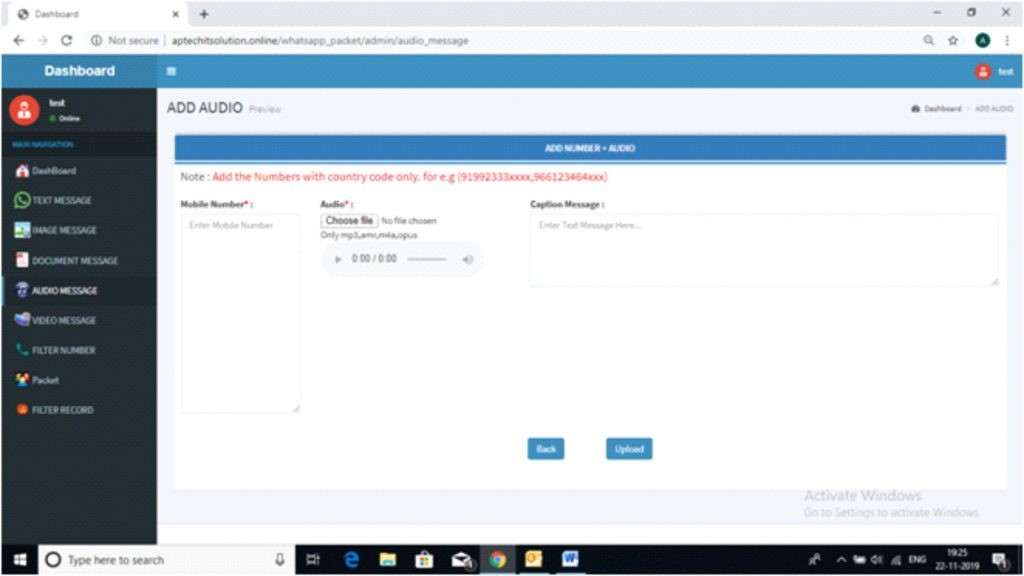 When clicked on this, you enter your phone numbers, then browse for your audio file in either mp3, AMR, m4a format, then enter your caption message and upload.

(9) Video Message:
When clicked on this, you enter your phone numbers, then browse for your video file in either mp4 or gif format, then enter your caption message and upload.
(10) Filter Number: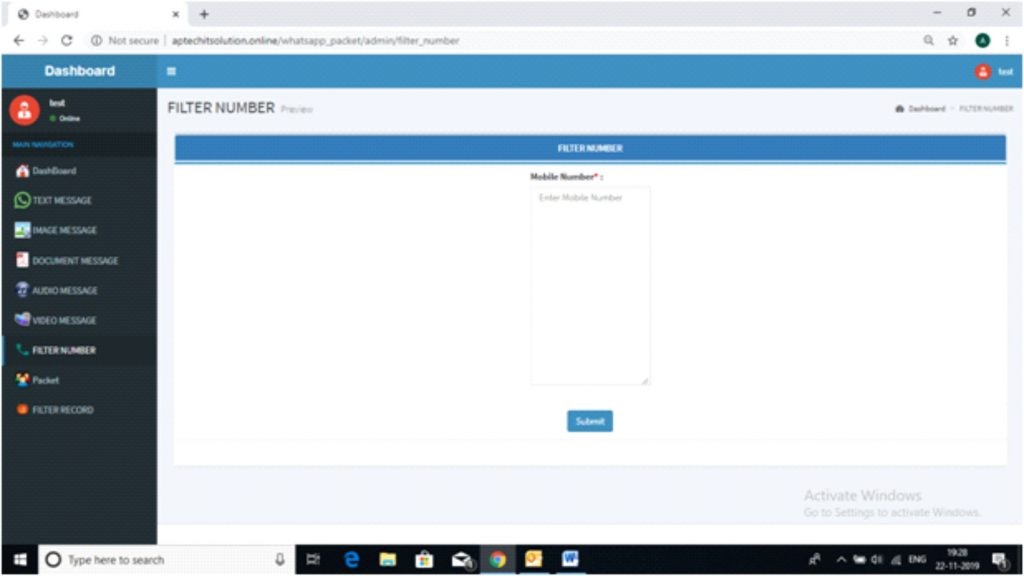 When clicked on this, this is where your target numbers are filtered to ensure they are active Whatsapp numbers.
Maximum of 50k number at a time can be filtered. Once you click submit, it will be uploaded and you have to check the filter record option to see the live whatsapp numbers.
Please note: Filtering can take up to take 8 -10 hours maximum depending upon volume of numbers you are filtering, it is lesser when you are not filtering more numbers.

(11) Filter Record:
When clicked on this, you can now download the filtered whatsapp live numbers only and the non live whatsapp numbers will be automatically remove from the filtered record. You can now save and you use for your whatsapp blast.
(12) Sign Out: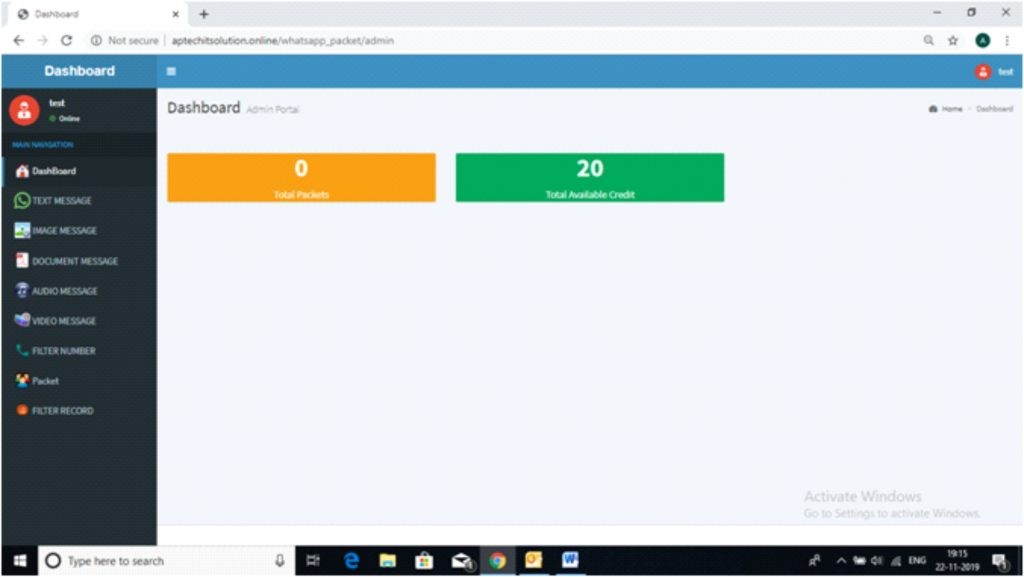 After you have successfully carried out your whatsapp blast, you can sign out from top right corner where you have your username, click on it and you will see sign out.
 Price List Below:
| | |
| --- | --- |
| Quantity | Price per Credits |
| 1,000 - 4,999 Credits | ₦10.0 |
| 5,000 - 9,999 Credits | ₦9.0 |
| 10,000 - 14,999 Credits | ₦8.0 |
| 15,000 - 19,999 Credits | ₦7.0 |
| 20,000 - 29,999 Credits | ₦6.0 |
| 30,000 - 49,999 Credits | ₦5.0 |
| 50,000 - 99,999 Credits | ₦4.0 |
| 100,000 - 299,999 Credits | ₦3.0 |
| 300,000 - 499,999 Credits | ₦2.5 |
| 500,000 - 999,999 Credits | ₦2.5 |
| 1,000,000 - 4,999,999 Credits | ₦2.0 |
| 5,000,000 Credits & Above | ₦1.8 |
Terms & Conditions

1 Unit = 4500 Character text Message per number (it's more than 30 pages of regular bulk sms)

1 Unit = 1 Audio File up to 5 MB size(*.MP3/AMR)

1 Unit = 1 Image file up to 5 MB size (*.JPG)


1 Unit = 1 PDF file up to 5 MB size (*.PDF)

1 Unit = 1 Video file up to 5 MB size (*.MP4)

For every additional 5 MB in Media File= double credits (deducted automatically)

All campaign will run between 10:00am-8:00pm (Indian Standard Timing) or 5:30am-3:30pm (Nigeria Time).
CREDITS DO NOT EXPIRE
PLEASE NOTE: YOU GET FREE FILTER CREDITS EQUIVALENT TO THE NUMBER OF CREDITS PURCHASED
Please click on request for new Whatsapp Account Creation to get started.

Please Click Here to request for New Whatsapp Blast Account
Please Click Here to Purchase Whatsapp Blast Credits
To login to Whatsapp Blast Dashboard, Please Click Here
Thank You for choosing DKM MEDIA WHATSAPP BLAST!!!
Tel: 234-706-5945-747